10 Best Asian Chicken Recipes with Noodles
Asian cuisine is enriched with different variety of noodle dishes. Such as Chow Mein, Hakka noodles, stir-fried noodles, Soupy noodles, pad Thai and so on. Most of these noodle dishes require simple and staple ingredients which can be easily found in any Asian grocery store. These recipes demand an average of 15 to 20 minutes and minimal effort to be served.
Chicken is one of the most easily available, cheap, and healthy meats one can have. When this protein combines with Asian noodle dishes, a piece of heaven comes onto your plate.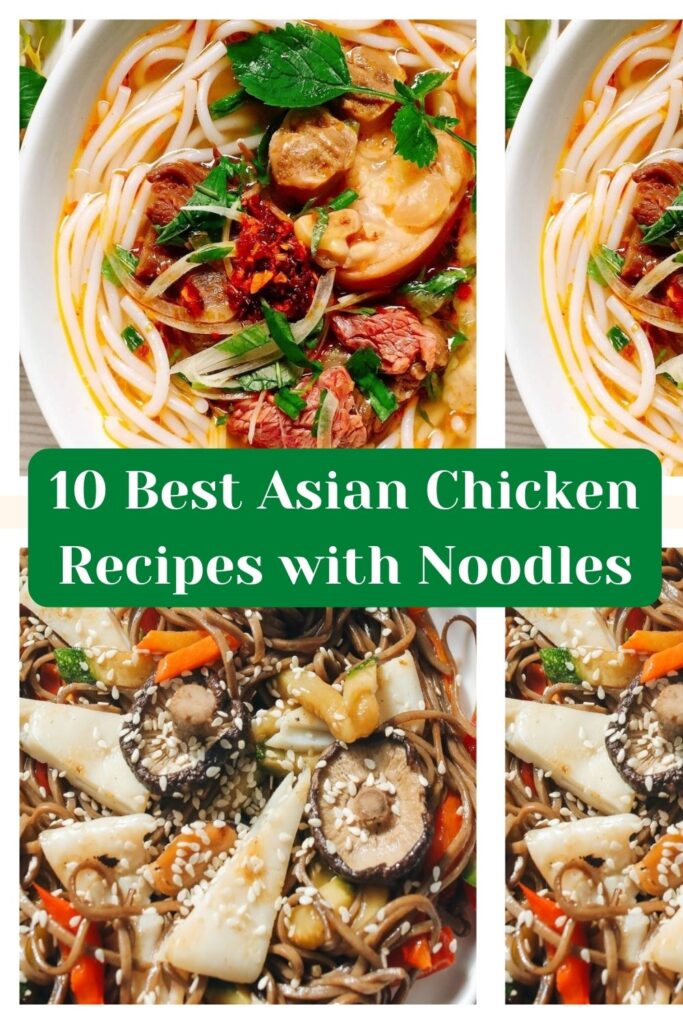 Getting all these amazing chicken noodles recipes in one place is something you really need in your life. I have researched and experimented a lot for days to create this masterpiece over here. These 10 chicken noodles recipes are easy, simple, tasty, and worth giving a try!
10 Best Asian Chicken Recipes with Noodles:
[Note: The ingredients and the way of preparation may vary depending on the recipe you are following.]
---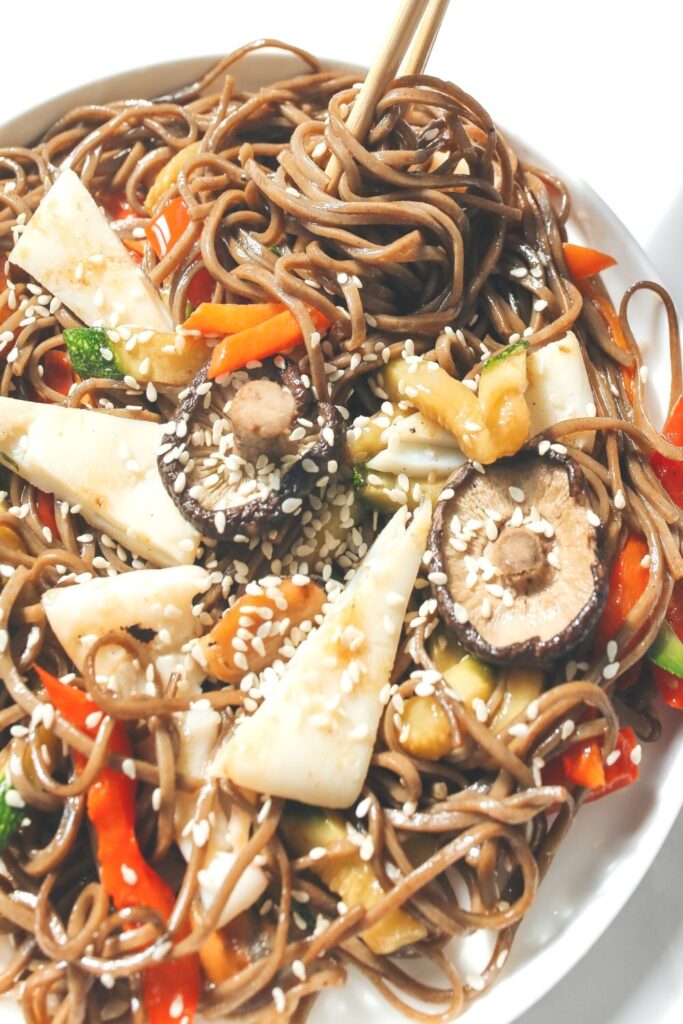 The Hakka Noodles recipe is the invention of the Hakka community that lives in China, where boiled noodles are stir-fried with Chinese sauces, vegetables, and meat. Indo-Chinese Chicken Hakka Noodles recipe is the "Indian" or "Desi" version of Northeastern Chinese cuisine. It is one of the most popular street foods in china, as well as India.
Preparation at a glance
Talking about Hakka noodles, preparing noodles with perfection is the most important step. Boil some water and add 1 packet of Hakka noodles along with salt and oil. Cook for a few seconds and strain to use later.
Heat up some cooking oil. Saute minced garlic for a few seconds in the oil. Then add all the sliced veggies like carrots, bell peppers, and onion. After frying these ingredients for a few minutes, add soya sauce, vinegar, chili sauce, and green chilies. Give a good mix. Now add Hakka noodles, salt, and pepper. Stir for another minute and serve hot.
---
Hoisin Chicken Udon Noodles can be an excellent lunch or dinner option. These udon noodles are thick and made from wheat flour. Freshly made or store-bought udon noodles are boiled initially, then they are tossed with sauteed chicken and mushrooms. A mixture of sauces (light and dark soya sauce, sriracha sauce, and Hoisin) is then poured over the noodles. Finally, the dish is served with spring onions and sesame oil.
Preparation at a glance
The future of a noodles dish depends on a successful sauce. A good sauce can either enhance the taste or creates disaster. To prepare the sauce of this recipe, combine dark and light soya sauce, Sriracha sauce, hoisin sauce, chicken broth, pepper, sesame oil, and ginger-garlic mince together.
Heat up some olive oil and sesame oil in a wok. Add chicken strips and cook until they become pink. Now add white mushrooms, and saute for a few minutes. Pour boiled udon noodles and the sauce mixture. Give it a good toss. Garnish with chopped green onions and serve warm.
---
Stir-fried noodles along with different types of Chinese sauces, loads of vegetables, and proteins like chicken or tofu, is called Chow Mein goodness. Chow Mein is originally a Chinese dish but it is popular and prepared by people all over the world. This noodles dish is super delicious and extremely easy to make.
Preparation at a glance
To prepare Chow Mein, we can use freshly made egg noodles or store-bought dry noodles. Ramen or Hakka noodles can also do a decent job here. For vegetables, we can have fresh cabbage shreds, julienne-cut carrots and bell peppers, French beans, green onions, and shallots. The authentic recipe also demands protein like chicken, tofu, or simply eggs.
Start with assembling ingredients like light or dark soya sauce, oyster sauce, Chinese cooking wine, sugar, black pepper, and salt in a bowl. Marinate chicken with some of this mixture, heat up some oil, and stir-fry those pieces for a minute or so. Finally, stir fry freshly boiled noodles with all the veggies, cooked chicken, and the rest of the sauce mixture on high heat. Garnish the dish with spring onions and enjoy.
---
Chicken Stir Fry with Rice Noodles is an easy yet delicious dish to have at lunch or dinner. Stir-fried chicken pieces with veggies like broccoli, bell pepper, mushrooms, and delicate rice noodles together make this heavenly dish.
Preparation at a glance
First of all, cook chicken strips for a good 1 minute in vegetable oil. Season the meat with salt and pepper. Keep aside for later use. Boil 1 packet of rice noodles. Stir fry veggies in the same pot. Now add chicken pieces and noodles along with the sauce mixture. The sauce mixture includes chicken stock, ketchup, soy sauce, and cornstarch. Give everything a good mix and cook for almost 3 minutes. Before serving, drizzle sesame oil to intensify all the flavors.
---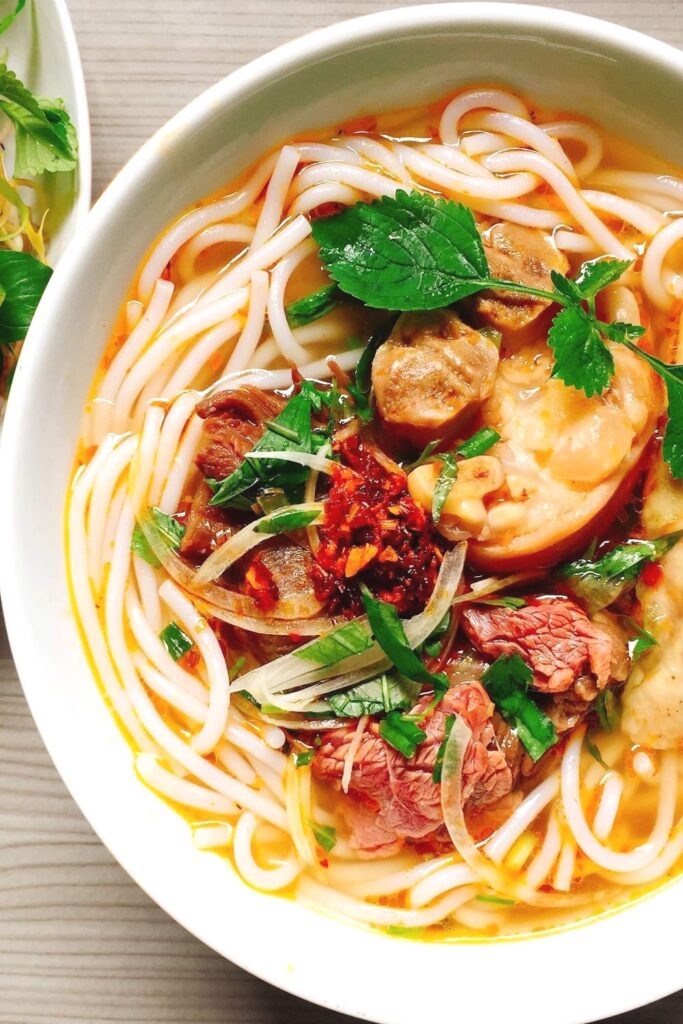 ---
This is not a straight-up cooking dish. Here you have to prepare different elements or parts of the main dish and before serving you will assemble all the elements in a large bowl. It's a traditional cooking method of Vietnamese cuisine.
Vietnamese Noodles with Lemongrass Chicken is a versatile, easy-to-make dish that is perfect for large group gatherings and late-night parties. This extremely flavorful dish can also be a fantastic option for lunch boxes and whole-week meal preparation.
Preparation at a glance
The first and most important step of the recipe is to marinate the chicken with sliced lemon grass, minced garlic, lime juice, soy sauce, fish sauce, brown sugar, and oil. The second step is to cook the chicken thigh pieces with perfection. When your chicken is cooked you are all set to go for all the cutting and slicing of veggies. Arrange all the veggies and aromatic herbs in one place. After your Vermicelli noodles are prepared, assemble all the elements in a big bowl. Drizzle chili garlic oil on top and enjoy the flavor heaven you have just made.
---
For weekend lunch or lazy weekday dinner, a plate of warm Asian chicken noodles is all you need to bring a smile to the face. This spicy Asian noodles with chicken dish is delicious and easy to make. This simple yet flavorful dish will only take 25 minutes to be prepared.
Preparation at a glance
The very first step is to prepare your rice noodles according to the packet instructions. You have to assemble the base or sauce for the noodles side by side.
Heat up some dark sesame oil and fry 1 tablespoon of finely chopped ginger and 2 minced garlic pods for almost 45 seconds. Transfer it to a large bowl. Now one by one add chopped green onions, sesame oil, soya sauce, hoisin or oyster sauce, rice vinegar, 2 cups of roasted boneless chicken cubes, and 2 teaspoons of chili paste in the same bowl. Finally, add the rice noodles and roasted peanuts to the bowl. Give a good toss and serve with some crushed and roasted peanuts for extra crunch.
---
This Chicken Stir-Fry Noodles recipe is one of the easiest comfort dishes for the Asian community. You just need freshly made or store-bought egg noodles, chicken, eggs, few sauces, and within 20 minutes, your noodles dish is ready to serve. This particular recipe is my favorite because I am getting authentic Asian cuisine flavors as well as having a budget-friendly meal.
Preparation at a glance
You can start making this dish by marinating chicken thigh stripes with soy sauce, oyster sauce, Worcestershire sauce, Shaoxing wine, white pepper, sugar, and some sesame oil. After good 15 minutes, brown those chicken pieces in some oil and keep them aside for the assembling part.
Heat up a wok and stir-fry some minced garlic until it releases an aroma. Now add some shredded cabbage and carrot, freshly prepared egg noodles, soy sauce, oyster sauce, and water. Stir for a few seconds and transfer into a bowl. Add the chicken pieces on top and garnish with some sesame seeds and scallion. Your wholesome, healthy, delicious meal is ready to enjoy.
---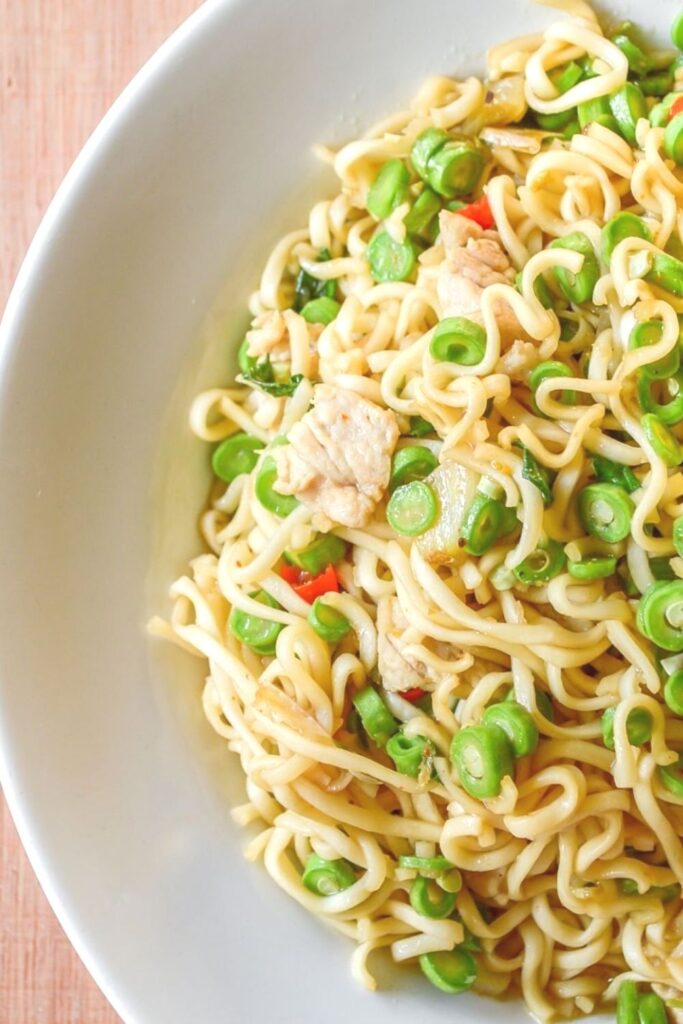 ---
Hoisin is a sweet and savory sauce from Chinese cuisine. This sauce is made with fermented soya bean paste, sweet potato, soya bean, wheat flour, salt, sugar, garlic, vinegar, sesame seeds, and water. It is similar to oyster sauce but the only difference – the hoisin sauce is sweeter than oyster sauce. Adding hoisin sauce to the noodles as a star ingredient means, a plate of sweet-savory noodles goodness.
Preparation at a glance
It's important to marinate the chicken thigh pieces first so that they can be tender and juicy. Prepare a marinade mixture with soya sauce, hoisin sauce, cornstarch, sugar, and sesame oil. Submerge the chicken in the mixture for 15 to 20 minutes.
In another bowl prepare a sauce mixture for noodles using soya sauce, oyster sauce, hoisin sauce, cornstarch, minced garlic, sugar, sesame oil, and water. Boil, strain, and set aside the noodles. Pan-fry marinated chicken as well as deglaze the pan with cooking wine. In the same pan, add carrot stripes, followed by leafy vegetables. Pour beaten eggs and boiled noodles. Give a good mix and serve warm.
---
Looking for a filling, healthy, easy, and delicious meal? This Mongolian Chicken Noodles recipe is all you need to meet your cravings. To prepare this amazing dish you will only need, gluten-free rice noodles, some veggies, chicken thigh pieces, and different kinds of Asian sauces. Just prepare the mini grocery list, have all these ingredients, and steal 30 minutes from your busy schedule; you are good to start making this dish.
Preparation at a glance
The two most important part of this recipe is preparing the rice noodles correctly and making a sweet and sticky sauce for the noodles.
Soak gluten-free rice noodles in a large bowl of hot water for 8 minutes. Take another bowl and whisk together soya sauce, hoisin sauce, brown sugar, minced ginger-garlic, and cornstarch. Brown some chicken pieces and set them aside for later use. In the same pan tender some veggies, and add noodles, sauce, and chicken pieces. Mix well and serve. Garnish the noodles with sesame seeds and enjoy.
---
A super delicious – super easy recipe that will blow up your mind! This 20 minutes comfort meal is my forever favorite one. Lunch box or lazy dinner, friend's movie night, or formal gathering; this dish is an absolute hit. I can describe the dish like this- freshly boiled Shanghai Noodles, boneless chicken thigh pieces, tossed with salty glossy sauce, and a handful of fresh Asian basil. The flavor and aroma is incomparable.
Preparation at a glance
Take a packet of Shanghai or udon noodles, boil and strain for later use. In a jar take some soya sauce, sesame oil, and sugar. Shake and combine well. Heat up some oil and cook chicken pieces until tender. Then add sliced ginger-garlic, and chopped red chilies and saute for 2 to 3 minutes. Pour noodles and sauce emulsion into the pan. Add some cooking wine (optional), and give a quick mix. Before serving, add some fresh Thai basil leaves for a strong aroma kick. Serve and enjoy.
---
More Recipes to try:
10 Best Asian Chicken Recipes with Noodles
Want to satisfy your cravings to try out unique, comfort food? These Asian Chicken Recipes with noodles can fulfill your desire tonight!
Instructions
Check the ingredients and proper instructions
Whether lunch or dinner, a noodle dish is a must-have dish on the Asian dining table. In this blog, I have assembled most of the hyped and best-rated Asian chicken-noodle dishes for my lovely readers. Please give them a try and share the feedback with me through mail or comment.
TRIED THIS RECIPE?
We love to see all the deliciousness!
Tag @gravyflavourofficial on Instagram and hashtag it #gravyflavourofficial
Signup For Email Updates
Enter your email and you'll receive an update when new recipes are published.