12 Best Afghani Chicken Recipes
Want to explore the unique and flavorful cuisine of Afghanistan? Then look no further!! Try these amazing Afghani Chicken Recipes.
Afghani food is flavorful, unique, satisfying, and filling.
Afghani dishes are known for their aromatic spices, tender chicken, and hearty sauces. The bold spices and aromatic herbs make the dishes unique and impactful.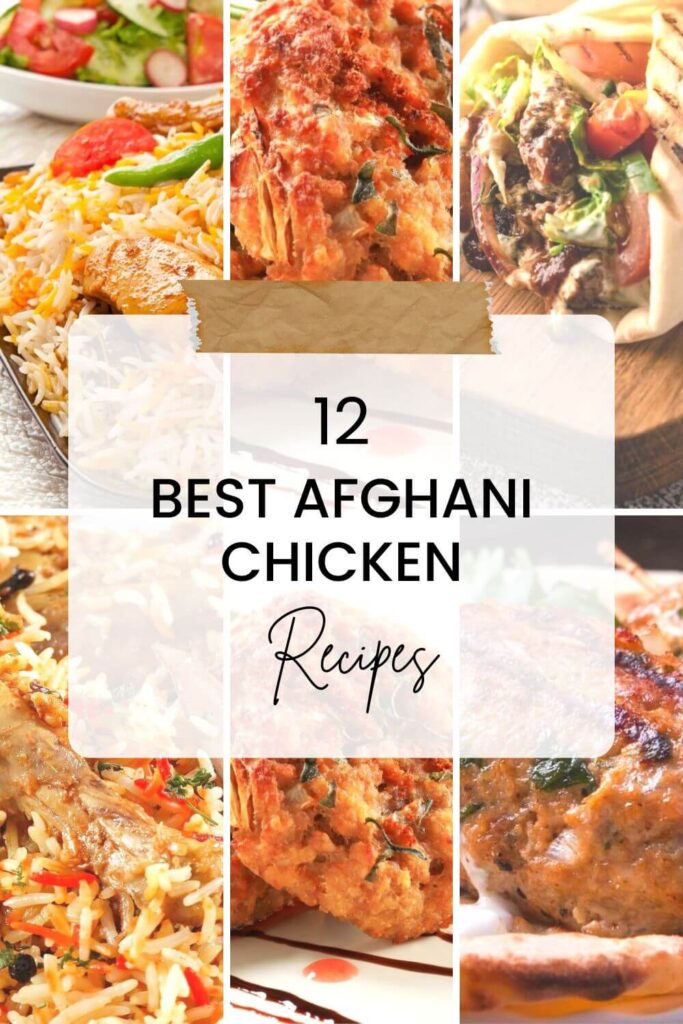 Most of the Afghani recipes add yogurt and other dairy products to the dishes. As a result, Afghani dishes become rich and creamy. The tender-juicy chicken with flavorful creamy sauce creates heaven on a plate!
So if you're looking for a new and exciting way to enjoy chicken, stop searching! Come and try these Afghani chicken Recipes and enjoy them with your family and friends.
Here are the 12 Best Afghani Chicken Recipes:
---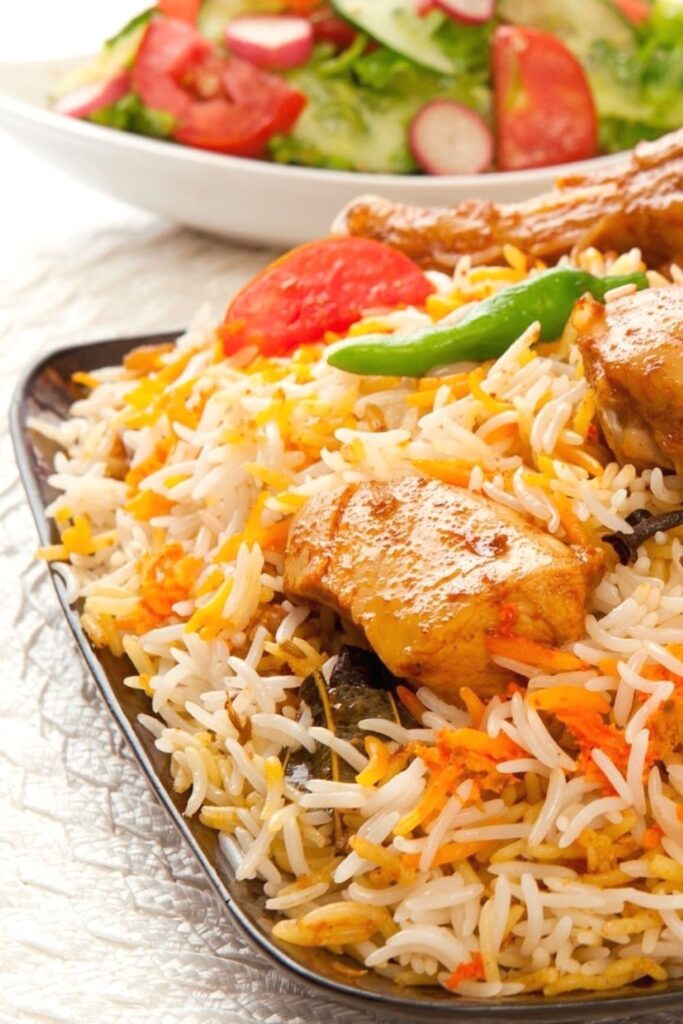 Afghan Chicken and Rice (Chicken Pulao) is a delicious, satisfying, and popular dish in Afghanistan.
Chicken and rice are cooked together with a variety of aromatic herbs and spices to prepare the dish. The flavors and aroma of Afghan Chicken and Rice are heavenly. At the same time, it is filling and nutritious.
This dish is a staple at many Afghan gatherings and celebrations. It is also an excellent option for a quick and easy meal. The tender chicken, fragrant rice, aromatic herbs, and spices will make the Afghan Chicken and Rice recipe a new favorite in your home.
---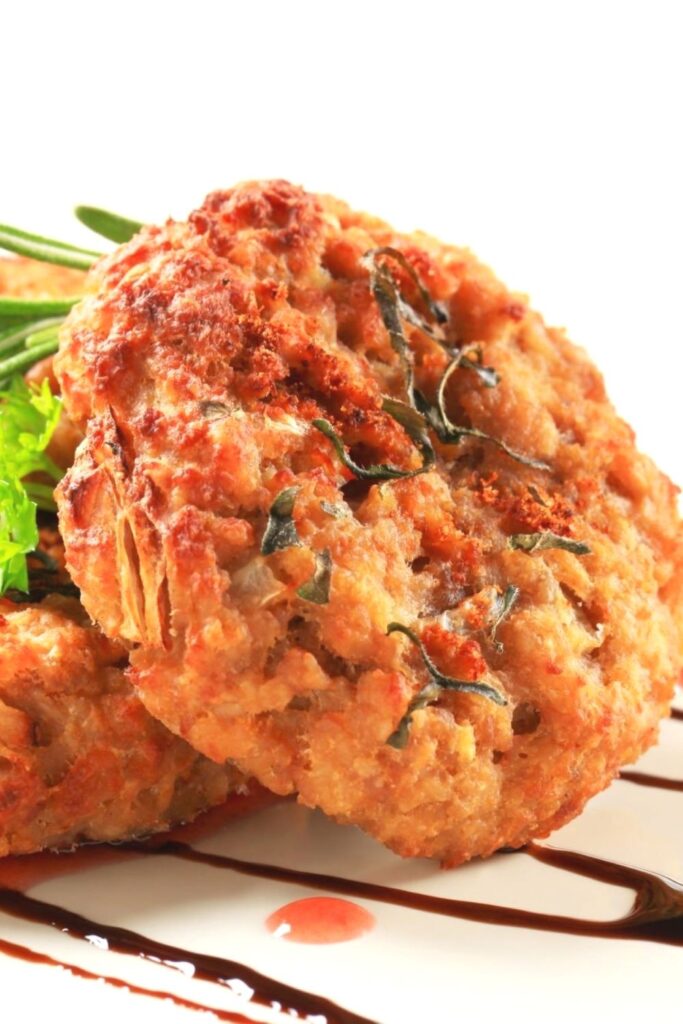 Afghan Chicken Kabobs (Shami Kebab) is a staple in Afghan cuisine. It's popular street food in Afghanistan and in some other countries as well.
To make this dish ground chicken is seasoned and shaped into small patties first. Then grilled it to perfection.
Usually served with bread, rice, and sometimes with tea as a snack.
Juicy and flavorful chicken, combined with the smoky taste from the grill, makes Afghan Chicken Kabobs an irresistible treat for anyone. Whether you're in the mood for a quick snack or a filling meal, these kabobs are gonna surely satisfy you.
---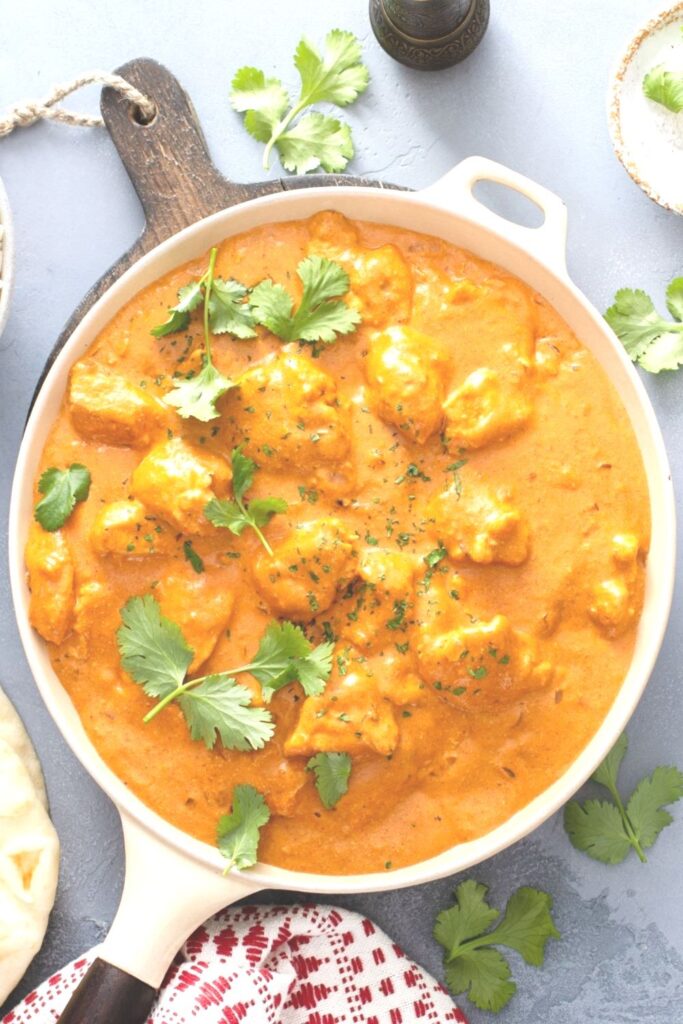 Afghani Chicken Curry is a creamy, rich, and delicious dish from Afghanistan. To prepare the dish, you simmer tender chicken pieces in a creamy cashew-based sauce with a mix of spices such as cumin, coriander, turmeric, and garam masala (a powder mixture of hot spices).
The secret to making a perfect Afghani Chicken Curry lies in the balance of different spices and the slow cooking process.
You can serve the chicken curry with plain rice, aromatic pulao, and flatbread. It is easy to make, quick, and absolutely impactful.
Why not try to make this dish at home tonight? Your taste buds will thank you later!
---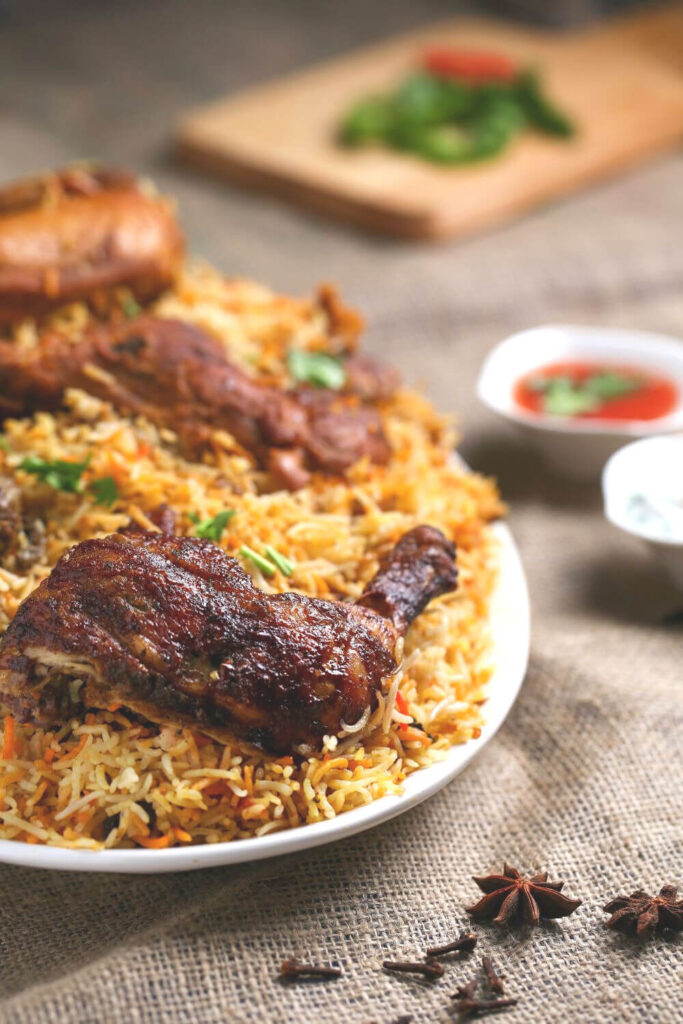 Nothing can beat the joy and taste of a warm hearty plate of Chicken Biryani. Are you a "Biryani" lover? Why not try this Afghani-style one?
Afghani Chicken Biryani is a traditional and popular dish from Afghanistan. It combines tender, juicy chicken with aromatic basmati rice and a blend of spices. Such a flavorful and satisfying meal, perfect for any occasion!
The key to preparing a perfect Afghani Chicken Biryani is in the marinade. The chicken is marinated in a mixture of yogurt, spices, and lemon juice mainly. The rice is also cooked with a blend of spices and herbs.
When the chicken and rice are cooked, they are layered in a large pot and baked until the flavors have melded together. The result is a heavenly plate of Biryani.
---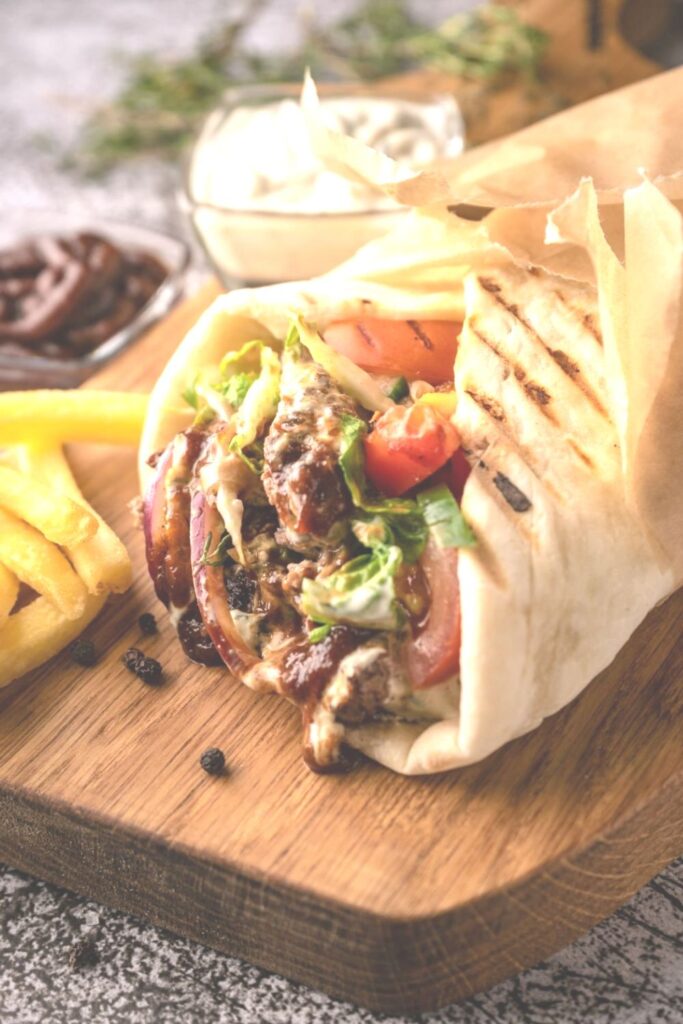 Chicken Shawarma can be a filling and satisfying lunch or dinner option. Do you have flat or pita bread in the pantry and a big cut of chicken breast in the fridge? You are all good to start making this dish then!
This dish originated in the Middle East. But people from all over the world love to make and eat the dish. It is one of the most popular street food dishes in Afghanistan.
To make the marinade a blend of spices like cumin, coriander, paprika, and turmeric is mixed with yogurt and lemon juice. This marinade adds flavor and helps to tenderize the chicken. Made by stacking thin slices of marinated chicken on a spit. After roasting, chicken slices are served on warm pita bread with various toppings and sauces.
With the bold flavors of this dish, anyone can be pleased easily! So try making it at home using this recipe for an authentic experience.
---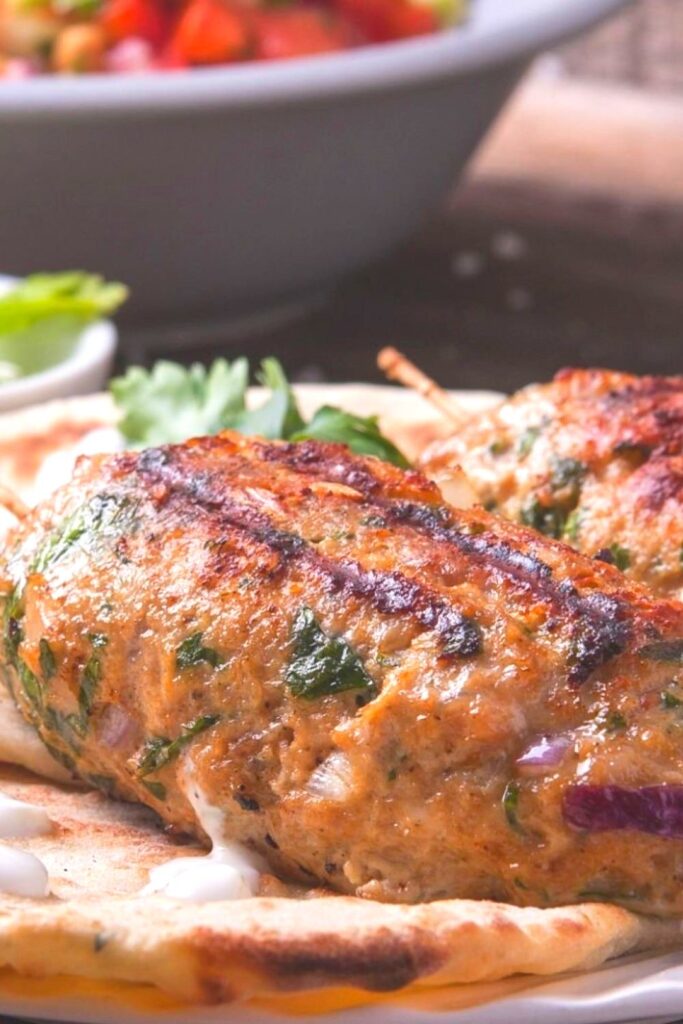 Grilled Chicken Kafta is a delicious and easy-to-make Middle Eastern dish. This dish is perfect for a summer cookout!
You can serve Grilled Chicken Kafta hot off the grill with a side of rice or a salad for a complete meal. Freshly made pita bread, hummus, and fresh vegetables should also taste amazing with this dish.
These juicy, flavorful kafta are sure to become a summertime favorite. Enjoy!
---
Want to give your pallet a creamy buttery treat?
Chicken Korma is a rich and flavorful dish of Mughlai origin. The dish is popular in Afghanistan, Pakistan, and India as well.
Made by slowly simmering tender chicken in a creamy base. Yogurt, spices, and nuts are mainly used to make the base. The richness of this dish will warm you up on a cold day.
You can serve Chicken Korma with fluffy basmati rice or fresh naan bread to complete the meal. As a side, a bowl of onion salad and sweet mango pickles can give you solid food goals.
Whether you are a pro at cooking or a beginner in the kitchen, Chicken Korma is a dish you should give a try!
---
Do you love warm, flavorful, and filling stews? If the answer is yes, you need to try Afghan Chicken and Chickpea Stew!
Afghan Chicken and Chickpea Stew (Nakhod) is a delicious, filling, and popular Afghanistan dish. Today's recipe is so much inspired by the traditional Nakhod.
The dish, Made by cooking tender chicken and nutritious chickpeas in a flavorful sauce. The sauce is made with tomatoes, spices, and herbs.
The result is a hearty and flavorful bowl of stew that is perfect for a comforting meal. Usually served with rice and flatbread or roti.
---
Are you looking for a quick and easy lunch or just want to warm up on a chilled evening? This Afghan-style Chicken and Lentil curry is all you need.
Chicken and Lentil curry is a warm and comforting dish that is perfect for cold days. Made with tender chicken, nutrient-rich lentils, and flavorful spices. Such a treat to your taste buds!
Serve this hearty dish with a piece of crusty bread or a warm flaky plate of rice for a complete meal. The Chicken and lentil curry is quick, easy, delicious, and filling. This recipe is worth giving a try, isn't it?
---
Ash Reshteh is a warm hearty and nutritious Persian soup. Packed with greens, beans, and noodles. Whether you're a fan of soups or just looking for a filling and interesting meal, this dish will surely impress you!
Though chicken is not added in the traditional recipe, you can certainly add precooked chicken pieces to give it a meat touch.
The key to making an authentic Ash Reshteh is using a variety of herbs and greens. You can use Spinach, parsley, chives, cilantro, and mint to complete the dish.
These ingredients give the soup its deep and fresh flavor. Beans add protein and noodles meet your carb needs.
This flavorful and comforting dish is perfect for sharing with friends and family. So why not give it a try?
---
Afghan Chicken with Yogurt is a tasty and easy-to-make dish. Tender pieces of chicken simmered in a rich-flavorful sauce, what a heavenly combination!
To make Afghan Chicken with Yogurt, start by marinating the chicken in a mixture of yogurt and seasonings for at least an hour. This will help to infuse the chicken with flavor and also will keep it tender and juicy. Then, sauté the chicken in a pan until it turned into brown color. Add the remaining sauce ingredients. Let the chicken simmer in the sauce until it is fully cooked.
You can serve Afghan Chicken with Yogurt over a bed of steamed rice or with some warm flatbread. This dish is surely a hit with its aromatic flavors and satisfying texture. Enjoy!
---
Chicken with sour plums, such a delightful combination!
This Afghan-style Chicken Korma with Dried Sour Plums is a unique and versatile dish. You can make a large batch of the dish and store it in the refrigerator for the whole week!
You can serve this amazing dish with steamed rice or with some warm flatbread. The dish is simple and easy to make, yet flavorful and tasty. It will surely become a new favorite, with its unique blend of flavors and comforting texture. So try this recipe for dinner today and enjoy!
---
FAQs
What is Afghani chicken made of?
Made with chicken that's been soaked in a mix of yogurt, garlic, ginger, and spices like cumin and coriander. The chicken is then cooked on a grill or in the oven until it's soft and fully cooked.
How many calories are in Afghani chicken?
The number of calories in Afghani chicken can vary depending on the recipe and the serving size. However, a typical serving of Afghani chicken (4 ounces) contains approximately 200-250 calories.
Is curry used in Afghanistan?
Curry is not a typical ingredient in Afghan cooking. Afghan cuisine is influenced by neighboring countries like India and Pakistan. But sometimes Afghan dishes can include curry as an ingredient due to this influence.
What is Afghani Flavour?
Afghan food has a unique taste that comes from mixing different spices like cumin, coriander, and cardamom together. They also use fresh herbs such as cilantro and mint to add more flavor to their dishes. They prepare a variety of meals using meat like lamb and chicken, along with stews and rice dishes that are full of delicious spices.
Why is Afghani chicken famous?
Afghani chicken is famous for its tender and juicy texture. The secret to its great taste lies in the special marinade made from a mix of herbs and spices like garlic, ginger, and paprika. This marinade makes the chicken flavorful and gives it a unique taste that people love. The chicken is then cooked by grilling or baking, which makes it even more delicious. It's so good that it's become a popular dish at Afghan restaurants all over the world, and is loved by many people. If you haven't tried it yet, you're missing out on a tasty part of Afghan cuisine!
More recipes to try:
12 Best Afghani Chicken Recipes
Want to explore the unique and flavorful cuisine of Afghanistan? Then look no further!! Try these amazing Afghani Chicken Recipes.
Instructions
Select the recipe you like

Arrange all the required ingredients for the recipe

Then prepare your dish and enjoy!!
Afghani chicken recipes are a delicious and versatile option for mealtime. These dishes are sure to impress. Try an Afghani chicken recipe today and taste the flavor explosion for yourself! Your taste buds will thank you!
TRIED THIS RECIPE?
We love to see all the deliciousness!
Tag @gravyflavourofficial on Instagram and hashtag it #gravyflavourofficial
Signup For Email Updates
Enter your email and you'll receive an update when new recipes are published.