20 Best Valentine's Day Party Buffet Ideas
Love is in the air! Yes, it's Feb, the month of celebrating love and care. And what better way to show your affection than with a romantic and memorable Valentine's Day celebration? Make it extra special this year with unique and delicious Valentine's Day party buffet ideas!!
No doubt, Valentine's Day is the perfect opportunity to impress your significant other with a delicious, hearty, and romantic meal.
One great option could be setting up a buffet of tasty and special dishes. This is going to allow you to have a relaxed and intimate dining experience with your loved ones.
A buffet will also allow your guests to pick and choose from their favorites and making the meal even more personalized and enjoyable.
Whether you're a master at cooking or just a naive cook, these Valentine's Day party buffet ideas are surely gonna impress you as well as your close ones!
Here are the best 20 Valentine's Day party Buffet Ideas:
---
Valentine's Day is all about enjoying different types of desserts. Maybe the sweetness of these desserts makes your partner extra sweet toward you!
You can set up a dessert buffet with your loved one's favorite cookies, cakes, chocolates, and candies. It's a perfect way to end a romantic buffet dinner.
Fill up the bar or counter with different kinds of desserts, like chocolate chip cookies, red velvet cake, chocolate truffles, macaroons, candies, mousse, and so on.
---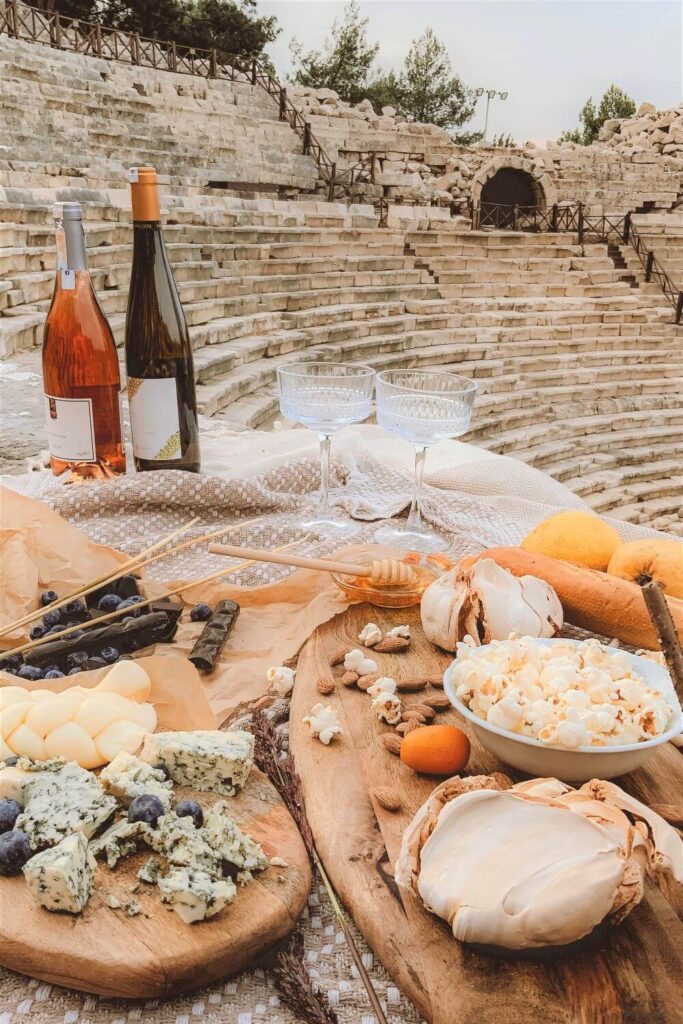 Cheese boards are always a hit at any buffet party. A classic cheese board is so romantic and satisfying.
You can create a classic cheese board with a variety of cheeses, crackers, and fruits. A variety of dips can also be added to make it even more attractive.
This cheese board idea is perfect for a cozy night dinner party with your loved ones. You can have different types of cheese like brie, cheddar, Gouda, and so on. Crackers and fruits like grapes and berries should be a clever choice for your cheese board.
---
Nothing can be better than arranging a chocolate fondue buffet on Valentine's Day eve!
You can serve a variety of fruits, pastries, cookies, and other treats to dip in delicious chocolate fondue.
Melt the chocolate in a double boiler or microwave and add cream to make it richer. You can keep the chocolate warm in a fondue pot.
People of every age group love chocolate. Also, this chocolate fondue buffet idea is really easy to execute. So why not give it a try on this Valentine's Day?
---
Charcuterie Board is such a fun meet-and-cheese board! This buffet menu won't let your guest feel bored at your party.
You can make a charcuterie board with your loved one's favorite meats, cheeses, crackers, olives, nuts, and fruits. Different types of meats like salami, prosciutto, and pepperoni, along with cheeses, crackers, and fruits should be served on the large board.
---
No celebration can be completed without a perfect glass of drink. So setting up a beverage bar is all you need at your Valentine's Day party!
Dress up a bar with sparkling drinks like champagne, soda, mojito, cold drinks, mocktails, and sparkling water with fruits.
This is such a perfect touch of elegance for your romantic evening. You can put different types of fruits like strawberries, oranges, and raspberries on the bar counter. It will add some freshness to your drinks.
---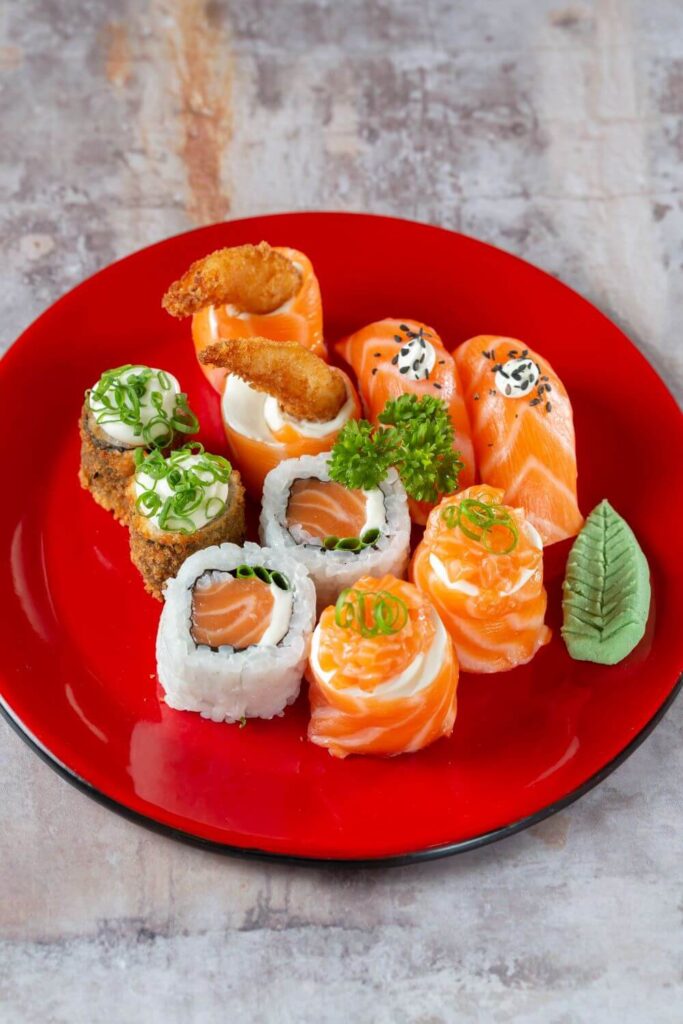 Want to level up your buffet dinner party this Valentine's eve? Try for a classic sushi platter, sushi can't go wrong!
Make a sushi platter with your loved one's favorite sushi rolls. You can make or buy different types of sushi rolls, like California rolls, tuna rolls, salmon rolls, and so on. These amazing rolls should be paired with Fresh soya sauce-based dips
---
What can be more interesting and exciting than Creating a tapas platter at Valentine's party?
Setting this platter is so fun and easy thing to do. If you are a busy working person, a Tapas platter is all you need to focus on.
This platter idea is perfect for a romantic evening at home. You can arrange various types of tapas, like olive and cheese platter, hummus, bruschetta, Camarones al ajillo (garlic shrimp), and so on.
---
Why not dedicate this Valentine's Day party to your vegan or vegetarian friends? Your health-obsessed friends will also thank you later!
Setting up a salad bar with your loved one's favorite greens, toppings, and dressings can create a great ambiance at the buffet party. You can arrange a party where your guest will eat as much as they want without worrying about their health.
Different types of greens like lettuce, spinach, and arugula can be served in a bar. There should also be various kinds of toppings like croutons, nuts, and cheese along with 2 or 3 types of salad dressing.
---
Valentine's party with baked Brie, it's such an elegance! This menu is perfect for a calm and romantic party. People will enjoy the food and the ambiance it is gonna create on the eve.
You can serve the warm baked brie with your loved one's favorite toppings, such as fruit or nuts. Different types of toppings like cranberries, honey, and almonds also should be put on the table.
---
It's great to set up a Crostini Bar at the pre-dinner buffet party on Valentine's eve. There's no involvement of actual cooking yet delicious food could be served to your guests.
You can set up a crostini bar with your loved one's favorite toppings such as cucumber, radish, cured sausages, and so on. You can actually make or buy crostini for the bar. Fresh fruits, olives, cheese, and dips can also be added to the table.
---
Having an oyster bar at the Valentine's Day party is something really special for oyster lovers. Moreover, all the seafood lovers are gonna thank you later!
You can serve freshly shucked oysters on a bed of ice. Lemon wedges and hot sauce Also you can serve lemon wedges and hot sauce on the side.
This recipe is easy to make and perfect for a romantic evening buffet…
---
Who doesn't love shrimp? A shrimp cocktail bar is as good as heaven for shrimp lovers!
A decent and classic shrimp cocktail bar with freshly prepared shrimp and a fantastic dipping sauce is all you need to start with. Freshly sliced lemon and some seasoning can also be added.
Shrimps can be prepared by boiling them in a mixture of water, lemon juice, and Old Bay seasoning. When they are cooked, let them cool down in the fridge.
Serves chilled shrimp with side dishes, dipping sauces, herbs, and seasonings.
---
To spread the love in the air on the eve of Valentine's party, an Italian Antipasto Platter is a must! It's easy to execute, simple, fulfilling, and exciting platter.
You can create an antipasto platter with your loved one's favorite Italian meats, cheeses, vegetables, and bread.
So prosciutto, salami, pepperoni, mozzarella, olives, marinated artichokes, and roasted red peppers can be served on your Antipasto Platter.
---
Deviled Egg Bar is such an evergreen buffet idea for any party. Whether you are a pro at cooking or just a beginner, feel free to give this idea a try!
You can set up a deviled egg bar with your loved one's favorite toppings like bacon or chives.
Start with Hard-boiling the eggs. When your eggs are done, cut them in half. Scoop out the yolks and mix them with mayonnaise, mustard, and other seasonings. Finally, pipe them back into the egg whites.
Arrange these eggs on a platter and give toppings in small bowls for guests, so that they could customize their deviled eggs.
---
One of the greatest buffet ideas for Valentine's party would be arranging a classic Fondue Bar. Setting up a Fondue Bar is very easy, economic, and time-saving.
You can set up a fondue bar with your loved one's favorite dipping sauces and items to dip. Bread, vegetables, processed meats, nuts, olives, and fresh fruits are usually served on a Fondue Bar. A big bucket of melted cheese is given as a dip.
The feeling of having a bite of salami dipped into creamy melted cheese is all we live for! Why not give this idea a try this Valentine's Day eve?
---
Looking for a buffet menu that would be filling and satisfying? Time to discuss some serious cooking and actual foods!
Add a variety of mini quiches to fill up your guest's tummy. This menu will take your Valentine's party to the next level.
Make mini quiches by using a muffin tin. Butter the cups and fill them with eggs, cream, cheese, and vegetables. You should then bake them in the oven until set. Finally garnish the mini deliciousness with herbs before serving.
---
Here comes the ultimate favorite buffet idea of mine! If you manage to set up a slider bar at your Valentine's party, your party will be a total hit.
As a slider lover, I can bet you nothing even comes near to this idea.
You can set up a slider bar with your loved one's favorite mini burgers and toppings. So make mini beef patties, chicken patties, or even fish patties, and then add different toppings.
Dress up your table with sliced cheese, lettuce, tomato, mayo, jalapeno, onion rings, tomato, and mustard sauce. You can arrange them on a platter and serve them with fresh slider buns.
---
You can set up a bruschetta bar with your loved one's favorite toppings, like tomatoes, basil, and mozzarella.
Make the bruschetta by toasting slices of bread. Rub them with garlic and various toppings. Other toppings like mushrooms, pesto, or prosciutto can also be offered.
---
Want to turn your Valentine's party into a solid seafood heaven? Try to set up a classic Paella station.
You can set up a paella station with your loved one's favorite seafood and spices.
Paella is a traditional Spanish rice dish. It's typically made with saffron, seafood, and vegetables. Prepare the paella in a large pan on the stove and serve it in bowls with a garnish of lemon wedges as well.
---
If you are looking for an elegant and interesting buffet idea for this Valentine's eve, no need to look further.
You can create a seafood platter with your loved one's favorite seafood like shrimp, crab, Lobster, and so on. You should arrange the seafood on a platter with lemon wedges and cocktail sauces. Please also include other items like oysters, clams, and mussels. Serve them chilled and enjoy them with a cold glass of wine.
---
More Recipes to try:
These Valentine's Day party buffet ideas are a perfect way to add a touch of romance to your celebration. With simple and delicious recipes, you can create a memorable spread that both you and your loved one will love.
So, why not make this year's Valentine's Day extra special with a festive party buffet? Make this V-Day a day to remember with these fantastic ideas.
TRIED THIS RECIPE?
We love to see all the deliciousness!
Tag @gravyflavourofficial on Instagram and hashtag it #gravyflavourofficial
Signup For Email Updates
Enter your email and you'll receive an update when new recipes are published.